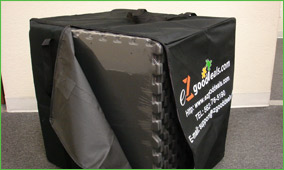 Bags and Accessories

EZGD Interlock Mats Carrying Bag (MA-CARRBAG-L)
Dimensions of bags: 26.3"x26.3"x20.3"
These great canvas bags with handles will allow you to move your mats around with ease and also store them for future use. The bags are sturdy and only come in black. These are great for tradeshows when you need the mats on the move.
ROOM TO CARRY:
- Standard 1/2" = up to 2 cases
- Industrial 7/8" = 25 tiles
- Print/Specialty Mats = up to 2 cases
- All other mats except the 40x40 mats will be able to fit into the bag as well.
If you need help figuring out how many carrying bags you need for your order, please feel free to contact us!
Please call for details.