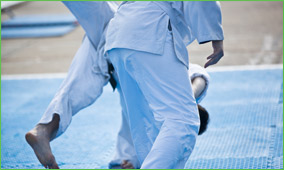 Martial Arts Mat
USAGE:
- Martial Arts
- MMA
- Self Defense
- Any other activities that require a thicker mat

Martial Arts 40"x40"x1" Interlocking Mats (MA-JD4040)
Covers 60 sq. ft. per case (this is rounded down a bit)
Please call for details.

Martial Arts 40"x40"x1.5" Interlocking Mats (MA-JD4040-15)
Covers 60 sq. ft. per case (this is rounded down a bit)
1 Case (6 Pieces of 40"x40"x1.5")
Please call for details.

Descriptions:
Great for all types of martial arts. Easy to assemble and double sided. These are waterproof and extremely durable. You can always add or take away and configure your floor as you please. These mats can be cut to fit your space as well.
BEST PRICING ANYWHERE!
We are determined not to be undersold - please contact us if you are offered a better quote for the same product with shipping cost included as part of the total.
No Odor and Non-Toxic!