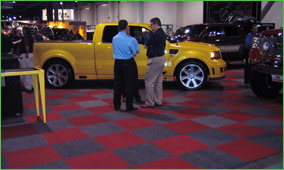 Carpet/Tradeshow Mats
USAGE:
- Homes/Offices
- Dorm Rooms
- Basements
- Decks
- Boat
- Trailers

Carpet EVA Mats 2'x2'x3/10" (MA-CP2424)
Seam-less Interlocking Carpet (covers 16 sq. ft. a set or 80 sq. ft. per case) (does not include edges -- only available in BROWN and CREME)
Please call for details.

Carpet EVA Mats 2'x2'x5/8" (MA-CP2424-58)
Interlocking Carpet (covers 100 sq. ft. per case – 25 tiles in box with edges/corners – only sold in full cases)
Please call for details.

Descriptions:
Real Carpet over foam flooring!
These carpet mats are great everywhere. They are very lightweight and since they are modular, you can create your own configurations. These mats interlock seamlessly and can be vacuumed and washed like conventional carpet. If a piece is dirty, just lift up that tile and wash it. You could always replace individual tiles later on as well instead of having to redo the entire floor.
The EVA foam below the carpet provides outstanding cushion that regular carpet does not. These like all our other products are non-toxic and lead/latex free. Our prices are 50% to 75% cheaper than competitors.
You can use these in your homes, offices, dorm rooms, basements, decks, boat, trailers, etc.
These mats are very durable and can hold up in a tradeshow booth well. Chairs, tables and high heels? Fear not!
No Odor and Non-Toxic!