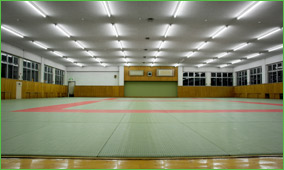 Economy 3/8"
USAGE:
- Exercise rooms
- Yoga
- Gym
- Martial Arts
- Workout rooms
- Play rooms

Economy 24"x24"x3/8" (MA-EC2424)
(Covers 80 sq. ft. per box)
Please call for details.

Descriptions:
Many asked for a cheaper option from our Standard mats, so we are now carrying high quality 3/8" mats.
High Quality Interlocking Foam Mats covering 80 sq. ft. per box. These are lightweight and extremely durable. A great way to cover floor at a very affordable price! These are $0.85 a sq. ft. with free shipping and edges! There mats are 3/8 inch thick with a hardness of 40-45. Protect yourself and your loved ones with a higher quality mat.
The mats are easily cleaned with light soap water or can be wiped clean with a wet rag. These mats are non-toxic and lead free. They can be used indoors and outdoors. EVA Foam is closed cell and does not absorb water so these mats are completely waterproof. These mats are fleshed with herringbone grip on one side to promote "anti-slip" and these are reversible.
Our edges are beveled so people do not trip over the mats.
Save compared to retail stores and other online vendors!
No Odor and Non-Toxic!
Bulk pricing available - 10 cases and up (Please contact us!)